Acropolis Now
52 x 30'
SD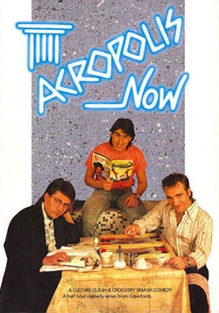 A culture clash & crockery smash comedy. A half hour comedy series from Crawfords.
Papa departs on a visit to his homeland Greece, but his heart stays behind in Melbourne Australia. Rather then entrust his beloved Acropolis café to his only son, Jim, he insists on putting someone more sensible in charge.
Jim's pal Ricky has brains – he's been a uni student! But even Ricky can't restrain Jim from charging ahead with a great new plan … Jim wants to make Acropolis the 'in' place to be seen - resulting in a goldmine, mate! He renovates and renames all that's left of papa's quiet domain, except his trusted waiter Memo, who's the epitome of the Greek male. 'Acropolis Now' is born. But where are the yuppies. Family and friends are still dropping in for the occasional free meal. Ricky can't see any profits, and Jim can't get away from his other inheritance – being Greek. Amid culture clashing – and crockery smashing – Jim and Ricky generate riches, alright. But strictly in the form of laughs.
Produced By: Crawfords
Starring: Simon Palomores, Nick Giannopoulos, George Kapiniaris, Mary Coustas, Tracy Callander, Simon Thorpe, George Vidalis
Year of Production: 1989 - 1990